Oxygen Concentrators
Generate economical, high purity, Oxygen from ambient air with the Orion Personal Oxygen Concentrator. The Orion Personal Oxygen Concentrator allows for convenient access to high purity Oxygen for medical recovery applications. Designed specifically for high reliable and ease of maintenance, Orion Personal Oxygen Concentrators provide years of dependable operation even in the harshest environments.
Medical Grade Concentrators
Medical Grade Oxygen Concentrators are available to meet the demands of therapeutic Oxygen applications from 3 LPM to 7 LPM. Highly reliable with long term durability, these systems can provide 90% to 95% Oxygen under the most demanding conditions. These systems can also be used for many other applications such as; brazing, welding, fish tanks, etc. (110 VAC/60 HZ or 220 VAC 50 HZ systems available)
Spa Grade Concentrators
Spa Grade Oxygen Concentrators can be used for a wide range of non-medical applications. Supplemental Oxygen can be breathed to enhance many physiological function and to promote personal well-being. These system are especially effective wherever physical manipulation is involved and to promote better mental clarity. Applications include: Residential, Day Spas, Massage Therapy, Oxygen Bars, Nursing Homes, Employee Lounges, Work Groups, Board Rooms, etc.
Orion Medical/Spa Oxygen Concentrators
Orion Group International is pleased to offer two excellent oxygen concentrators. The popular Nydek Lite, Mark 5 concentrator offers up to five liters per minute. We also have the same Nydek Lite unit that offers up to 8 liters per minute. The Nydek is available for 115v/60Hz or 230v/50Hz. Power consumption is only 300 watts (+/- 10) making it very comfortable for us at home or in a Spa setting. The flow is adjustable and lockable from 0.125 to 5.0 liters per minute or 0.125 to 8.0 liters per minute. It is a compact, quiet unit. Please contact us for excellent pricing on this top-of-the-line unit.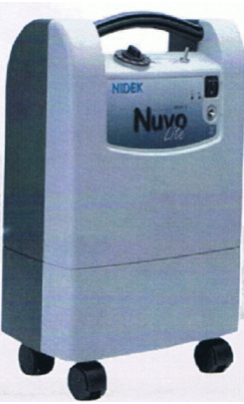 Oxygen Concentrators
The AirSep New Life Oxygen Concentrator is also an excellent machine with a reputation for extraordinary reliability. While it has been superseded by newer AirSep models, it remains the favourite concentrator for Spas, aroma therapy and sustained home therapy.
Orion Group International offers the preferred "grey" model, fully reconditioned at a very affordable price, complete with "pine-tree" connection or humidifier/aroma therapy container. Our like-new reconditioning includes replacement of the zeolite filter crystals and complete sanitization of the assembly. This Orion concentrator produces 5 liters per minute; flow is adjustable to match your specific requirements.